Mew Satsuma



Human Name

Satsuma "Tony" Touni

Age

15 years old

Gender

Male

DNA

Rothschild's giraffe

Weapon

Satsu-Mike (Satsuma Mike)

Attack

Reborn Satsuma Forte

Birthday

October 2nd

Bloodtype

O-

Ethnicity

Japanese

Grade

9th; attends Niou Junior High School
Mew Satsuma (ミュウサツマ), also known as Satsuma "Tony" Touni (橙丹サツマ 「トニー」tôni satsuma "tonî") in human form, is a new recruit to the Tegaki Mew Mew team and the only son of a yakuza boss.
Satsuma refers to a satsuma orange, also known as unshû mikan in Japanese. Touni means orange-red, referring to his mew outfit colors as well as (loosely) his hair color. His nickname "Tony" comes from his last name, and it's easier for non-Japanese to say.
The rest of Satsuma's family are named after different types or oranges: Jutarô from jutarômikan, Kiyomi from the first tangor of the same name, and Setoka from the Kiyomi and Encore mandarin hybrid.
Appearance
Edit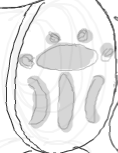 Human Form
Edit

At 6 feet 2 inches and 176 pounds, Satsuma is a giant among his classmates. He has an average Asian skin tone on a strong, athletic frame that unfortunately isn't put to too much use at this time. His hair is naturally a reddish shade of auburn (it drives his father crazy, and he wishes he'd dye it black), and his eyes are a mixture of amber and brown with a slight tinge of green.
TBA
Personality
Edit
TBA
Abilities
Edit
Weapon & Attack Satsuma Mike (サツマイク satsumaiku), casually known as the "Satsu-mike", is an orange-red microphone with an orange cord at the bottom, two red stripes below the orange top, two little green "leaves" on the very top, and the signature pendant with wings below the two stripes.
Reborn Satsuma Forte - 
Fighting Style
Edit
TBA
Abilities
Edit
TBA
Relationships
Edit
Will keep adding the more he interacts!
Jutarô Touni (橙丹寿太郎 tôni jûtarô), 46 years old, 6'7", Satsuma's father.
Kiyomi Touni† (橙丹清見 tôni kiyomi), 36 at death, 5'5", Satsuma's mother.
Setoka Touni† (橙丹せとか tôni setoka), 13 at death, 5'4", Satsuma's older sister.
Kashisu Kuromura / Mew Cassis (黒村かしす kuromura kashisu), addressed as "Kuromura-san" by Satsuma, is his good friend from junior high school who continues to be tight with him despite her moving up to senior high school.
Puretsu Kawaki / Mew Pretzel (渇きプレツ kawaki puretsu)
Masala Chai Tea / Mew Masala (マサラ・チャイ・ティー masara chai tî)
Mirtillo "Leia" Marino / Mew Blueberry (マーティロ・マリノ 「レイア」 mâtiro marino "reia")
Miscellaneous
Edit
Voice Actor: Shin'ichiro Miki (Touya from Tsubasa Reservoir Chronicles); Andy McAvin (Akira Maeda from Cromartie High School)